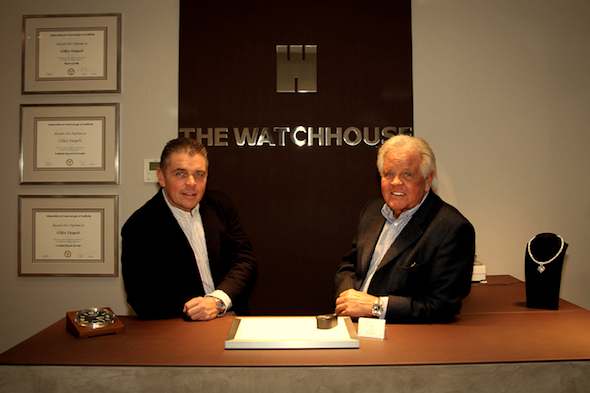 Gilles Vanpelt had the chance making out of his passion his profession. As a collector and a real expert of exclusive watches, he is the manager of The Watchhouse, a specialised company in the purchase and the sale of first-class watches. He has a IGI certificate in cut diamonds, coloured stones and pearls. He knows like nobody else the parameters that are necessary for mastering this complex matter.
Although exclusive watches have complicated works, they often dispose of figured jewellery in very noble materials, sometimes even decorated with precious stones. Their trade usually needs a lot of specialised knowhow which Gilles Vanpelt disposes of ! As a passionate collector, his relationship with the client often goes beyond the normal service. Serious and attentive service is very valuable to him. Although Gilles Vanpelt manages 2 boutiques in Zoute and in Brussels, he concentrates especially on the boutique in Zoute.
WE CERTIFY THAT OUR WATCHES ARE 100% ORIGINAL ONES WITH A ONE-YEAR GUARANTEE CERTIFICATE.
WE OFFER A GUARANTEE FOR SECOND-HAND WATCHES AND FOR COLLECTION WATCHES.
All our second-hand and collection watches are constantly being reviewed with great care sometimes even in our repair shops. The client will receive an invoice including a guarantee of 1 year. This guarantee is only valid if the second-hand or collection watch has been purchased at The Watchhouse. Another intervention is not possible, except when the manufacturer of the watch agreed upon repair in another shop.
In case your purchase doesn't meet your expectations: Based upon the existing law regarding purchase by correspondence, you can exchange or return to us the watch within a week after purchase, starting on the purchase date. A authenticity guarantee for the watch with description, number of the box and or works  will accompany each of our deliveries.
THE WATCHHOUSE QUALITY
We only offer you original watches hat are revised by the manufacturer and that are often very little worn, which allows us to offer you a one-year warranty.
The Watchhouse also presents its collection of luxury products and jewelry
Interested? Take a look!
With kind regards, Gilles Vanpelt.